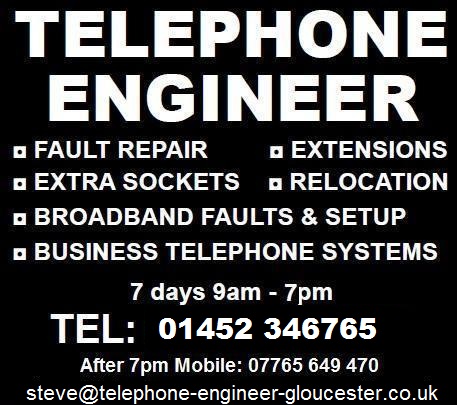 Telephone Engineer Gloucester is available 7 days a week for repairs, extensions and broadband problems
Our Telephone Engineer callout charges for Gloucester are: Callout including unlimited labour (per job, eg a single extensions, repair / diagnose a crackling line) is £65 + Parts capped at £99 for a residential customer and £95 + parts capped at £140 for a business customer. We charge no more for attending quickly, same day or next day, saturday or sunday.
All bills MUST be settled on completion.
BT Callout charges range from £130 for a Residential Customer to £245 for a Business Customer if the fault is found to be internal and they will not repair an internal fault, only disconnect it from the working outside line. BT Callout Charges
Telephone Engineer Gloucester - Telephone extensions fitted, faulty BT line need fixing? Telephone Extensions, Telephone Wiring for phone line internet & Sky. Need an extra point or a telephone fault fixed? Slow broadband? Noisy line or no line at all?
-- Telephone extensions & telephone sockets positioned in the best place for you, in your house or outbuilding, for use with your internet broadband hub, Sky box, or simply another phone.
-- We can shift a phone socket if it's in the wrong place, or disconnect wiring if you are having building work done in Gloucester. If you need the phone cable re locating, or the telephone socket wiring altered we can help.
-- We can shift or re-route telephone wiring & tidy up old loose existing wires. If your socket is hanging off call us!
-- You may have just moved property & want to identify cables before decorating, or digging if you are underground fed!
-- We can prove that the fault is inside or outside your premises & possibly not down to you.
-- We can assist you with any phone problem – fault find & fix any BT telephone fault with your own wiring.
-- You may want to fell a tree, demolish a building or have a high vehicle entering your property for which you need a temporary or permanent reroute of overhead cables - we can help.
Please call us if you are worried that the fault is on your equipment because we can save you a lot of money!
Your service provider will invariably charge in excess of £100 just for the visit! Additional work may be charged by the hour & be very expensive.
Please call us because as an Ex-BT Engineer I can provide the same high level of care as your service provider at a fraction of the cost.
All my work is guaranteed for 3 years and in most cases if you call I will give a Fixed Price over the phone - KNOW what my bill will be before I finish. No surprises!